Testimonials from Premier Flight Customers
Here's what a few of our customers have had to say about us.
Have a testimonial of your own to share? Click Here fill out our short testimonial form.
Darin
Dean,
I'm not sure how many of your guides would do this, but I just wanted to make sure you knew how much I appreciated the effort that Rob Stucker put into yesterdays hunt. Even though the birds weren't working well, it was his idea to stick it out in the afternoon and see if the afternoon flight would be better then the morning. I have to believe that the majority of guides will put the time/effort into the morning flight but after that they'd just assume head home. But Rob spoke right up about eating lunch and coming back and giving the afternoon a go. So even though in the end it was fruitless, it was definitely something that I noticed and appreciated! Please make sure Robs aware that his effort didn't go unnoticed (hopefully we didn't screw him then on tips since I told everyone in the group that tips were up to the individual so I have no idea what he received for a total).

We're looking at using you again in December as well. I'm a little hesitant to pick a date as I'm going to play it by ear with the weather and hope that we get a cold spell w/some snow to give these birds a good kick in the butt! If you see things really picking up and you think of it, please shoot me a quick email letting me know. I do a fair amount of goose hunting around town as well so have a general idea of what's going on, but you guys cover way more ground then I do.

Thanks again Dean, we appreciated Robs effort and thanks in large part to him, even though the bird count wasn't great, we'll be coming back.
Darin
Rochester, MN
Josh Morrissey
Hi Dean,
It is Josh Morrissey with the Winona State Ducks Unlimited committee. On behalf of the all of the guys from the WSU Ducks Unlimited Club, I just want to thank you again for the two great hunts. We all had a blast and appreciate it very much! Even with the warm weather you still got us on the geese! 29 geese over 2 days of hunting isn't too bad! It was definitely an experience we won't forget and it was a great way to introduce a few of the guys to waterfowl hunting. Thank you again for everything and I hope we will all have the chance to make it back there soon! I will definitely let all of my buddies know about you guys!
I attached a couple group pictures of our hunt on October 20th. We may use the footage we got for a TV show called "The Hunting Life" that is going to be airing in the beginning of 2011, if that is alright with you. We of course thanked Premier Flight and you on film and we will give your contact info. I can keep you updated on that.
Thanks again! We appreciate it!
Sincerely,
Josh Morrissey
Quade, Cottom, Buddy
Dear Dean and all at Premier Flight,

Thanks again guys for a hunt of a life time! The hunt went beyond our expectations and was just the coolest hunting experience we have ever encountered. The setup and the decoy spreads were just awesome, (THEY MADE THE BIRDS RAIN IN!!!!!). Our guide, Rob was great, we enjoyed hunting with him and was appreciative of all the information he provided us, and of course the multiple volleys of birds he had in our face!!!!! We also enjoyed Smitty's company on the last day of our hunt, he was a great guide with lots of good hunting tips and was just a cool guy to be talking with in the blind.

All in all we enjoyed meeting you all, and of course we enjoyed the hunt. Our trip home kinda sucked, (we got stuck in Dikinson ND) but that was ok. We will never forget this hunt and hope to have many more successful ones, WITH YOU GUYS OF COURSE. So one more time thanks again, and we will be seeing you this next spring.

Thanks for the hunt of a life time,

Quade Jessen (Quade from Montana)
Cottom lee (Big Man from Montana)
Buddy (Bird retrieving machine from Montana)
None
Hi Dean.
I just wanted to let you know what an awesome job Rob and Smitty did for our snow goose hunt this past weekend! We killed about 88 birds in 1-1/2 days (we did not hunt Sunday afternoon due to rain). They had a lot of knowledge about snow goose hunting and kept us entertained with funny stories and jokes. All of my guys really appreciated the effort Rob and Smitty put in to get us in the right spot and make our trip enjoyable for us. The only complaint I have is that Smitty did not offer us any coffee or pastries (just kidding)! All said and done the trip was phenomenal and you will see us next year in Rochester and South Dakota. I would and will recommend your guide services to anyone that I know will enjoy a goose hunt. Keep up the good work!
Dale & Paul Gaffaney
Dean,
Just wanted to drop you a note to say Thank You for borrowing your shotguns to Paul and I yesterday. You don't know how stupid I felt when we opened our cases and the trigger locks were still on the guns. You really saved the day! I also wanted to thank you for the great service you provided on our hunts this year. You and your guides helped spark a goose hunting interest in my son and I am sure we will be back several times again next year! Although using your Benelli yesterday spoiled him and I'm sure he is going to want one of his own for next fall!
We talked about the Executive package that you offer on the way home yesterday and I think we are going to try and put one of those together. First we need to ask around and see who is interested and in how many hunts. I'll keep you posted on that.
Until next fall, good luck and safe hunting!
Dale & Paul Gaffane
Jim
Dean, believe it or not this was our 5th year with you. In 2002, my 10 year old who brought a gun for the first time today was only 5 and my sophomore in high school thought I was cool! Let it be known that not many things get my 8th grader Sarah and my sophomore Natalie to pop out of bed at 6:15am. Heading to the goose line with the Goose Grinders (do you use that name any more, probably not as it isn't politically correct!!???) does it every year. They did it today and will do it again next year because of your gracious team.
We had a ton of laughs, shot birds, and saw an awesome display of calling today with Smitty and the boys "setting em down" in the deeks. Your team makes our annual trip to Rochester an event to remember. Two great things happen on our annual trip. First, we preserve 3 hunters for the future. Second, I get to spend 4 hours with my kids in a 4X8 heated box, outside with no TV, phone, etc.
Hope you will enjoy a couple pit shots from today and a few from our first trip. Have a blessed Christmas, thanks and see you next year.
Jim
JIM AND JEREMIAH ERICKSON
Hi my name is Jim Erickson I am a 100% disabled Kuwait and Iraq Army Sergeant. My son Jeremiah is a very enthusiastic 8 year old boy who loves to hunt. Because of my disabilities it is next to impossible for me to take my son out on any type of waterfowl hunting. So now this brings us to present day, I want to take this opportunity to thank Dean and Kevin for giving my son and I a hunt of a lifetime. They hauled us in the pickup where we needed to be and got us all set up for what turned out to be a hunt that we will never forget. Scott was our guide caller and I have never heard a more perfect caller in my life, I have hunted geese ever since I was my sons age, and I couldn`t tell the differance between Scott calling and the real geese that were coming in. This guide service has my vote of confidence and will be seeing my son and I many years to come, and by the way Dec. 1st, 07 was our 1st hunt and all together we "THE A TEAM" I will call them bagged a total of 89 geese. So if you want a guide service that caters to your needs and cares about you as a person then I suggest you give Dean a call at Premier outfitters. AND THEY DON`T CALL THEMSELVES GOOSEGRINDERS FOR NOTHING!! Thanks for a job well done guys you were excellant and we can`t wait for the spring snow goose hunt!!!!


FRIENDS FOREVER
JIM AND JEREMIAH ERICKSON
OFFICIAL GOOSEGRINDERS MEMBERS
Ashleigh
Mr. Tlougan,
I enjoyed coming up there this year and hunting with my father and my brother. It was a great experience and meant alot to my dad. This next year I would like to plan a hunt for my father around Christmas or Thanksgiving when ever is more convenient for you. I would like to get this trip for him as a Christmas present. He is getting kind of old and I dont think that Robbie nor I relized this till this year. Haha. Thank you very much for allowing us to come and hunt with everybody. We had a awsome time and it was great to kill my first goose Once again thank you.
Thank you,
Ashleigh!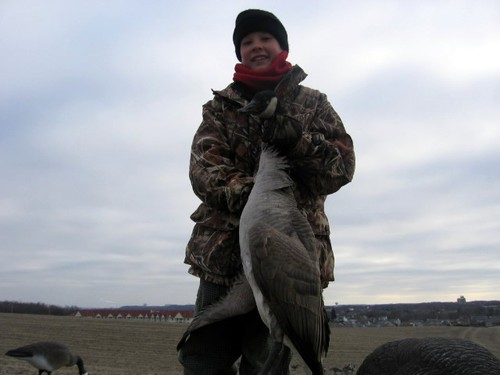 Kyle
Dear Dean,
Thank you for the chance to get my first goose. I had a lot of fun. Rob did a good job of calling in the geese. It was fun watching them come in.
Thank You,
Kyle, 12
Mankato, MN
Tim and Cruz
To Smitty and Kevin Steever, along with Hunter's Justice:
Thank you both from the bottom of my heart for letting myself along with my step-son Cruz come down on the 20th of Nov. To do some goose hunting.
It has been a couple of years hunting with you; but it did bring back alot of great memories with all of you. Even Cruz wanted to be the bird dog; but we already had one.
I even believe Cruz made Kevin laugh by telling some great stories...."about tying some bread around the decoy's neck, so the real geese will see that their's food on the ground." but then Smitty said "how about just getting some bagels instead, and tying that around their necks?" we all laughed.
For me, I shot and killed 2 of the geese that day on my own, that was a great feeling!!!!!!!
Anyway, thank you both again from the bottom of my heart for letting myself and my step-son Cruz come down and do a little hunting with you.
Hope to see you all again in the near future.
Tim and Cruz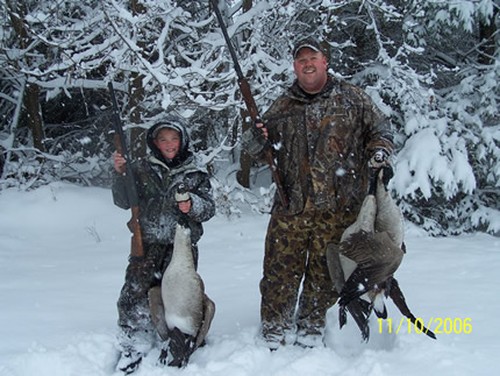 Brady S
Dear Mr. Tlougan:
My name is Brady S. and I'm nine years old. I would like to thank you for letting my dad and I hunt in the snow with Kevin (Nov. 10th). I have a new 20ga that I am learning to use. My dad and Kevin are lots of help and great teachers. The pits are cool and listening to Kevin and Smitty call the geese in was great. I even had to chase a wounded goose down and tackle it.
Thank you again Mr. Tlougan- I hope to meet you sometime soon!
Brady S
Viola, MN
Paul E.
Each hunt that we have had with them has been a dream hunt. Dean Tlougan has been living around Rochester for so long that he knows where the geese are going to go and if they are willing to come in to the decoys just by looking at the way the flock flies. On our last hunt i shot my first band ever. The pits are a perfect way to hunt while they break the cold blistering wind and provide great camo with an ingenious set up for the pop up top. The geese were attracted like magnets with well set up decoys and great calling with the buzzer going off with geese always within 25 yards and committed. Our family all got our limit on the first hunt with them. This was an experience of a lifetime.
Paul E.
Age 16
Apple Valley, MN
Doug
Hi Dean,
I want to thank you for a good hunt Sunday. Not only was the day very pleasant (Oct. 22), the geese picked our field a lot, came in to the decoys, suckered in on the calling and we were able to go home with our limit each. My son said it was the best bird hunt he has been on and had a great time. He was so fired up he couldn't stop shooting, so we headed over to the gun club and he pulled off 75 at the clays. When I told the other two boys, who weren't able to go with us, about the great fun, they were buggered out they weren't able to go and wished they were shooting too on Sunday. Hopefully they can come next time.
We have four breasts in the freezer and four ready to go for smoking tomorrow night. Mmmmm! Thanks again.
Doug
Jon K
Dean,
I wanted to write you to give some feedback on the hunt this morning. All 11 of us hunting could not have had a better experience. A big thank you to Premier Flight and especially our two guides.
The field and pits were awesome, and the birds were flying constantly, there wasn't a dull moment. We ended up downing 17 birds in about 1.5 hours, so we had very little time to rest.
However, what really made it great were our guides. As you know, 5 of our party had never hunted before, and our guides were absolutely accomodating, showing them the ropes of safety, coaching them, and encouraging them, and all 5 of those first-time hunters managed to kill a goose, what an exceptional accomplishment!
The guides worked very hard, their skills are the best I've seen in over 50 goose hunts I've been on, they really know the craft. Half of the excitement for the day was watching them turn flocks around and have them come back, they even managed one bird to land in decoys to draw others in, all the while strategically waiting until that magic moment to hit the buzzer. In addition, they were pleasant, polite, and even funny to add to the overall enjoyment of the day. Bottom line is, the guides made the atmosphere of the hunt as much a part of the good time as the shooting itself.
Please pass on all of our thanks to them!
Jon K
---
Send Us A Comment
To our past clients: We appreciate your comments and if you would, fill out the form with comments and a photo about your experience at Premier Flight Guide Service. Fields marked with * are required. Please enter the Name field how you want your name to read on our website (Examples: John Doe, J. Doe, John D., John Doe Corporation).