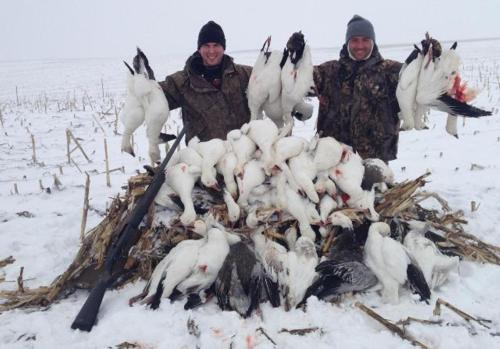 Well it is never too early to start thinking about booking a guided snow goose hunt for the Spring 2014 season in Arkansas or South Dakota. We had a great 2013 Snow Goose Season in both states and if the reports from the Tundra hold true we should have a great 2014. The early reports call for an "average" fall flight of birds with the birds breaking the record once again this spring, so an average hatch means plenty of young to trick them older birds into our spreads.
Things to consider before booking a hunt with a snow goose guide are:
Dates of goose hunt – Well this depends on where you live and just how far you are willing to drive. We off guided snow goose hunts in both NE Arkansas and Eastern South Dakota, both areas hold a ton of Snow Geese. We get started in Arkansas in February and wrap up in early March, check out some more info on our Arkansas Snow Goose Hunting Page. Our next stop is South Dakota in early March and the length of the season depends on the migration of the geese, last year the boys were still shooting them in mid-April, get some more info on our South Dakota Snow Goose Hunting Page.
Rates for a guided snow goose hunt – We offer some very competitive rates and you will definitely feel like you got a good value for your dollar once the hunt is over. Our weekday rate for a 2.5 day hunt is $425/hunter, and our weekend rate is $500/hunter for a 2.5 day hunt. We hunt both AM and PM flights and a typical weekend hunt would be Friday AM, Friday PM, Saturday AM, Saturday PM, and wrapping up with a Sunday AM hunt.
What to expect on a Spring Snow Goose Hunt – Well almost all of our days are spent in the layout blinds in either rice or corn fields depending on which state we are in. Much of the work is already done once you arrive with 1,000-2,000 decoys, blinds, and flying decoys already set in the field, we do ask for your help if moving fields as it takes hours for 1-2 people to pull this off. Once the morning flight of snow geese starts it lasts 1-4 hours as the geese head from the roost to the feed fields, hopefully ours looks like a good one to make a pit stop. After the morning flight is done we will break for lunch typically and this timing is up to the guide. At this time the afternoon's plans will be set and away you go to eat. After lunch the scenario is the same as the morning but we have a definite stopping time as the sun goes down. During the hunt we ask you to help us keep the blinds stubbled, empties picked up, and make sure you or your equipment is not shinning. All it takes is one shinny face to wreck what could have been a very memorable hunt. After the hunt it is time to divide up the geese and it is the hunter's responsibility to clean their own snow geese, often it is team effort. If this is not the last hunt of your trip the next day's plans will be laid before you head off for dinner.
Setting Expectations - For me this is the biggest thing to ensure happy hunters because so many folks have watch videos with hundreds of snow geese being shot and assume it will happen for them on their first snow goose hunt. For myself I go into every hunt knowing I am going to see/do a handful of things that ensure a great day with friends, I know I am going to see a sunset away from the hustle and bustle of the city, I am going to get to see a wide array of wildlife bombing the decoy spread besides snow geese as ducks, swans, cranes, specks are all VERY common in the spring, I am going to get to share some laughs with my fellow hunter, see thousands and thousands of snow geese, eat way to many snacks, and enjoy a sunset in the country. What is bonus for me is the killing snow geese, trust me no one likes a day in the field and not pulling the trigger but it does happen. I have had a zero bird day one day and 50+ the next day. Sure 100+ bird days are there, but not the norm. There will be lots of days with 10-30 geese killed, some less and some really good days were the stars align and we shoot 150 birds. If you expectation coming into the hunt is to leave with a pick-up load of snow geese I am sorry odds are you won't enjoy your hunt even if we have some really good hunts. Snow geese are the most frustrating birds to chase, they can blank you one day because of weather and the next the sun is shining and the south breeze is blowing and you pay them back BIG TIME! You have to take the good with the bad in the snow goose spread as no two days are the same and odds are there won't be 3 days in a row of perfect conditions. If you come into it with the mindset knowing the guide will do everything possible to get your birds and you are going to have a good time no matter what you will do just that have one heck of a fun time in the snow goose spread.
We look forward to seeing you in 2014, if you would like more information check out our Snow Goose Hunting Page.
Posted in: Premier Flight News, Snow Goose Hunting