South Dakota Snow Goose Hunting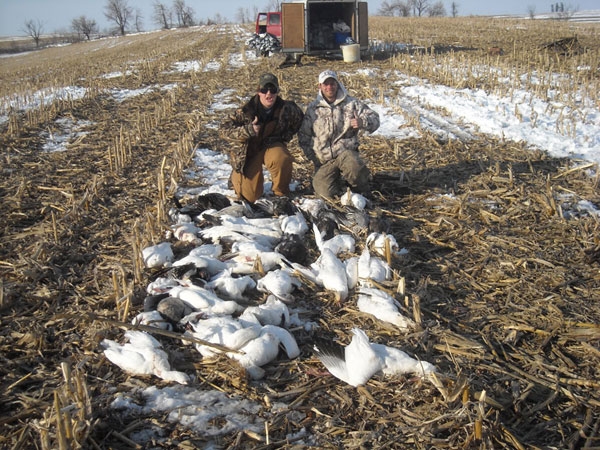 South Dakota Snow Goose Hunts
Snow goose hunting in South Dakota at peak migration is simply NUTS. South Dakota is the pinch point where almost the entire Central and Mississippi converge in the narrow area between the Missouri River to the west and the Minnesota border to the East. This area will see a spring migration of tens of millions of waterfowl as they make their trek back to the breeding grounds; this includes millions of snow geese. The spectacle of thousands of waterfowl including ducks, Specklebelly Geese, Canada Geese, Cranes, Eagles, Etc. is quite a sight to see and a great bonus on the hunt. Even though we may only take Snow Geese, Blue Geese, and Ross Geese in the spring the added fun of having these non-targeted species around is an amazing sight.
The South Dakota Snow Goose Hunting Difference
Well compared to Missouri where millions of geese converge on a couple key staging areas, in South Dakota with the recent wet conditions have the birds spread out over a much larger area. Why this is important? Well it also spreads out the hunters so the pressure on the birds is much lighter. When I first starting hunting South Dakota in the spring it was draught conditions and there would only be 4-5 LARGE roosts of 500k-1million+ birds, well today this is just the opposite. There are still some large roosts, but this might be the James River flood waters, a large flooded corn field, or a small lake. The geese no longer seek the protection of the "big water" like they did in the past making for less pressured geese.
South Dakota Snow Goose Hunts
Dates: March 3rd - April 8th
Monday - Thursday
- $190/day per hunter
- $165/half day
- $500/3-day hunt (2.5 Day Hunt, hunt till noon on the last day)
Friday - Sunday
- $200/day per hunter
- $175/half day
- $575/3-day hunt (2.5 Day Hunt, hunt till noon on the last day)

State Fee: $45 South Dakota Spring License - New in 2021 $25 habitat stamp needed to hunt in South Dakota.
Licenses: South Dakota Game & Fish
Note: A non-refundable deposit of 50% is required at time of bookings. Premier Flight Deposit Policy

What to expect on a guided snow goose hunt with Premier Flight in South Dakota?
The Hunt - We hunt the morning and afternoon feeding flights of snow geese, some days on migration days we may stay in the field all day. On a typical day we will start out meeting at a predetermined location, your snow goose guide will take you to the location of the hunt which might be 5 minutes from town or up to 30 depending on where the birds are feeding. Once to the field we will get you situated in the blind and ask you to give the guide a hand doing some last minute preparation on the blinds and decoys to make sure everything is perfect. After a safety talk we will hunker into the blinds and wait for the action to start. We will usually hunt till around 11am-noon and then break for lunch, after lunch we will meet back at the field and hit the blinds again until sunset. After the days hunt we will make plans for the following day, if a move is needed your guide may ask for some help picking up the 1500 decoys and blinds so that they can make the move after you head to diner.
Location - Well we typically start on the HW 14 corridor basing out of De Smet, SD. The Lake Thompson area is an historical holding area for snow geese in the spring. We will almost always be without 75 miles of this central location so you can get an idea for planning your hunt. This is small town SD so typically your lodging will be with the mom and pop motels we have built relationships with in the past, not a 5 star accommodation, but also it won' t break the bank as the pricing is very reasonable.
Fields - We have a great network of local farmers all over Eastern SD that lets us easily move with the birds. We are typically hunting corn fields; in past years these have also been holding sheet water which draws birds to the field. The conditions have been muddy so be prepared with waterproof clothing, many hunters simply wear waders to stay dry/clean in the field.
Equipment - Premier Flight uses the best snow goose equipment money can buy. We run spreads up to 1,600 decoys from Sillosock, Deadly Decoys, and Bigfoot Decoys. We also run high end electronics from Snow Persuader Electronic Goose Calls. And then comes the "tricks of the trade", this includes motion decoys and flagging these weary birds. Last but not least is your home in the goose spread, for next spring we are running brand new Hunter Specialties Hitman Blinds to keep you comfortable in the field while snow goose hunting.
Guides - Our snow goose guides are actually professional guides, not someone looking to make a little extra money in the spring because they have a snow goose spread. Our guides do this for a living 2-4 months out of the year starting in Minnesota in the fall and then following the migration in the spring. These are professional hunters who know what it takes to make your spring snow goose hunt a success and have you coming back year after year.
Location - Just a starting point, Lake Thompson, SD
Weather – De Smet, SD Weather
Lodging - Please contact us before your hunt so we can give you the nearest options. Since we hunt all over the eastern 1/3 of the state the location a few days before your snow goose hunt might change the day before.
Spring Snow Goose Hunting - What to bring?
What to Bring to your spring snow goose hunt: Spring snow goose hunting is a season of extremes. One day it can be 70 and sunny and the next 15 and snowing out, because of this it good to be prepared for your hunt. Here is a list of things you may want to consider bringing for your hunt.
Guns - For spring snow goose hunting we recommend a 12ga shotgun, 10ga are fine but if you are on a hot hunt pulling the trigger on 200 rounds might get a little hard on your shoulder. If you have one I would bring a back-up gun just in case you have issues with your gun, with the changing conditions and the mud in the fields guns tend to have issues. I would also not recommend bringing a gun that needs to be babied since we are hunting out of layout blinds and the gun must be inside of the blind with you and things tend to be a little dirty in the spring.
Ammo - We recommend BB's, this is a great all around shot. If the birds are working in tight 2's are great, if the snow geese are not playing nice and we need to shoot a little higher BB or BBB is a better option. I always recommend 2-3 boxes per day hunted, most guys bring a full case for a 3 day hunt. Best Deal I have found and this is all I personally shoot in the spring is 3" BB from Roger's Sporting Goods
Clothing - Well you need to prepare for anything while chasing snow geese in the spring. Most snow goose guides will have a entire back seat full of clothes because they know mother nature will throw anything at them from day to day. I would recommend some warm waterproof clothing because it can snow and dip down into the teens and twenties in the spring. Because there is often snow melt and rain in the spring the fields tend to be a little bit muddy, because of this many spring snow goose hunters tend to give up and wear waders which is a great option since you can strip down and jump into your truck and be clean underneath. Otherwise I would plan on temps from 10-70, sun to snow/rain. You just never know what mother nature is going to throw at you. Please bring a white hoodie, white face mask, or white Tyvek suit.
Camera - Always nice to be able to capture that pile of snow geese at the end of the day.
Headlamp - This is very handy early in the AM getting into the field and getting settled into your blind. Also it is a must for moving spreads after a PM hunt if you are asked to help out.
License - Both MO an SD have a paid license that is available in local stores or online. AR also requires a license but is free.
Face Mask - A great idea to keep your shiny face hidden from the circling snow geese, a forehead on a sunny day is like a mirror telling the snow geese exactly where you are.
Snacks - There are days when the birds are migrating that we will not leave the field, it is a great idea to bring plenty of snacks/drinks with you each day.
Foam Pad - Now the blinds are plenty comfortable, but personally I won't go into a field in the spring without one of these. When the fields are muddy so is the inside of your blind, when it is cold these will make it feel like it is 20 degrees warmer. These pads are worth every penny you spend on them if you are hunting in the cold or mud, usually Walmart will have them for $5-8, they are just foam pads and can be cut in ½ and shared between two hunters. Walmart - Foam Pad.
Back Warmer - For me these are my savior in the during snow goose season. Picking up thousands of decoys takes a toll on the old back and I will rely on these when my back is getting tight. They last 8-10 hours and keep by backside nice and toasty in the spring. If you have a bad back you might want to consider. Walmart - Back Warmer
Toe Warmer - Again you are laying for hours on end in a cold muddy field, even with the best boots your toes might get cold. Almost every morning if it is cooler out I will toss in a pair of these and I don't have to worry about cold toes all morning. Walmart - Toe Warmers
Cleaning Supplies - Remember at the end of the day the birds must be cleaned. Since a wing must be left for transport I recommend 1 gallon zip lock bags, only one bird per bag. A knife, latex gloves, and some water/towels for cleanup is nice too. Also some large strong trash bags for the rest of the bird, if your guide can't find a home for the waste most hotels will let you toss them (make sure to ask first).
A sense of humor - There is plenty of down time in the field, days turn LONG if you can't have a little fun and tell some stories/jokes in the field to kill some time.