Spring Snow Goose Hunting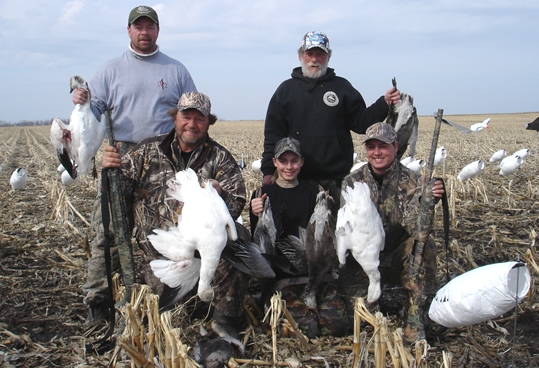 Spring Snow Goose Guide Service
Premier Flight Guide Service offers snow goose hunts starting in February in Arkansas. When looking for a snow goose guide you want to make sure they are snow goose hunting in multiple locations so that to keep you on the snow geese. We offer guided snow goose hunts in Arkansas, guided goose hunts in Missouri, and our last spring snow goose hunting location is in South Dakota. Because we operate in multiple states we are your spring goose outfitter for whichever location is nearest to home. Our spring snow goose hunts start in Newport, Arkansas and then move northward following the migration. Next stop is NW Missouri in the Squaw Creek National Wildlife Refuge where millions of snow geese stage. We follow the snow geese through Nebraska near Adams NE, then up to South Dakota near the Lake Thompson area. We utilized many different leases in each location because snow geese are aggressive feeders and move around a lot.
Location - The key to a good guided snow goose hunt
Spring Snow Geese Locations - Location is key to being successful while hunting snow geese in the spring. A good snow goose outfitter will have multiple options to move to since snow geese move around so much. The spring snow goose migration is dictated by the weather more than anything else since the geese can only move so far there is open water and snow free fields. Because spring weather in Arkansas, Missouri, and South Dakota can change at a moment's notice pushing the birds back south or warming up and allowing them to move north. Because of this Premier Flight has many options along the flyway to keep our hunts on quality birds. These birds can literally be in Missouri one day and South Dakota the next, a good snow goose guide needs to have the flexibility to keep you on the birds.
These snows move feeding grounds often. We like to stay one step ahead of them so we have a guide every day who scouts for the next days hunt. Because the weather plays a significant role in the success of the hunt, we highly recommend that you book a 2 to 3 day hunt to maximize your hunting success. We have state of the art electronic caller systems and our fields have huge spreads with lay-down blinds or pits. We typically hunt 6 clients per field.
Snow Goose Hunting Locations:
Snow Goose Hunting Equipment
Equipment - Quality Equipment is key to our success in the spring snow goose. Snow geese get hunting starting in September in Canada and all the way to their wintering grounds. Then they make the trek back to the breeding grounds in the spring and we are waiting along the way. By the time they get back to us they have been hunted for 6+ months and are well educated. It is important when selecting a spring snow goose guide that they have top notch equipment to increase your odds at success in the field.
We use only the best in equipment to lure these smart birds into the snow goose decoy spread. We use the following equipment:
Decoys
- Silosock Decoys
- Deadly Decoys
- Bigfoot Decoys - We utilize 100-300 around the "kill hole" in each spread for added realism
Layout Blinds
- Hunter Specialties Hitman Blind
Electronic Calls
- Snow Persuader Goose Calls
Special Equipment
- Silosock Flyer Decoys
- Silosock Rotary Machines
Premier Flight Guide Service is booking snow goose hunts for upcoming season.