Rochester Goose Hunts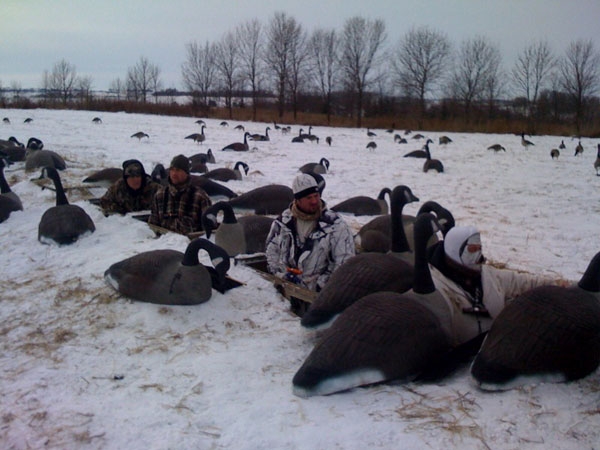 Rochester Goose Hunts
Rochester has a long tradition of being the place to go for chasing Canada Geese each fall/winter. This tradition was started because population of Canada Geese that called Rochester home lured in by the warm Silver Lake in Downtown Rochester, MN. The lake is not longer heated, but the tradition continues as more geese then ever make Rochester a stopping point on their migration South each fall. Birds are lured to town by plentiful water, most birds instead of using Silver Lake now us the Zumbro River which flows though town, storm water retention ponds around town, and now flooded gravel pits that surround the Rochester area. Rochester is also surrounded by corn/soybean fields giving the birds the fuel needed to make the next migration South.
History of Rochester Goose Population – About Rochester Goose Hunting
Rochester Goose Hunting
Well folks have been chasing geese in Rochester for years which was once surrounded with state hunting blinds on the refuge line to catch the geese in between the roost and the fields. Well this brought hunters to town and it was realized there was a need for a outfitter to take these hunters to the feed fields so they stood a better chance to bag a Christmas Goose. Well Dean Tlougan the owner of Premier Flight Guide Service at the ripe age of 19 went to work for one of these original guide services back when a Canada Goose was a real prize and the limit was only 1 goose per day. In 1996 Dean finally went out on his own taking over Rochester Goose Hunting from Mark Leitzen and has been on his own ever since. Now almost 30 years after starting out as a goose guide Premier Flight Guide Service is by far the largest and most successful guide service in Minnesota. In Rochester alone Dean has access to 18+ pitted fields for goose hunting surrounding all sides of town ensuring you a successful goose hunt.
Canada Goose Hunts
Early Season
Regular Season
Late Season
Goose & Duck Hunts
Self-Guided Hunts
Rate List (including special rates for each season)
Proof that Premier Flight is your "go to guide" for Minnesota Goose Hunting – Testimonials
Past Memories of some great goose hunting in Rochester, MN – Pictures
The Premier Flight Crew – Dean's Goose Guides

Rochester, MN Weather - AccuWeather