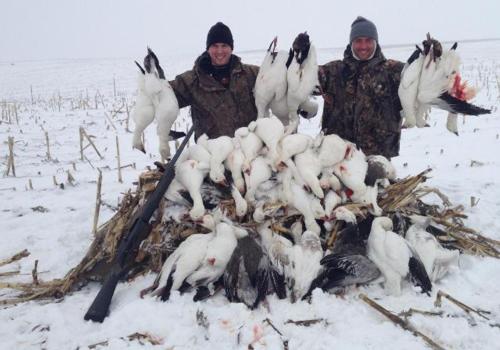 Well it was a very productive season on Snow Geese this year; but not the typical weather patterns we have grown accustom to in the past few years.
Arkansas Goose Hunting – Snow Goose hunting in Arkansas this spring was challenging at times with lots of rain and the birds mostly migrating by the light of the moon, but also very rewarding once Mother Nature gave us a break. We had our best day every in the decoys this spring in Arkansas shooting 187 birds out of one spread, we also had many other days breaking the century mark too. We lacked the typical "South Wind" migration days we have come to love for hunting snow geese, but overall we had a great spring chasing Snow Geese in Arkansas and look forward to the hunt in spring 2014.
South Dakota Snow Goose Hunting – Well it was not the rain like in Arkansas that made our hunting tough at times; it was the snow which lasted the entire month of March this year in South Dakota. Some of our best hunts happened in a snow storm this year and it made it so the geese could not migrate any further north until it started to melt in April. We had lots of good days in South Dakota this spring, tough at times with the snow and also very rewarding when the conditions were on our side.
Overall we had a great 2013 Spring Snow Goose season in Arkansas, Missouri, and South Dakota and I would like to thank everyone that hunted with us. We are looking forward to 2014 and hope you are too.
Thank you,
Dean Tlougan
Posted in: Snow Goose Hunting